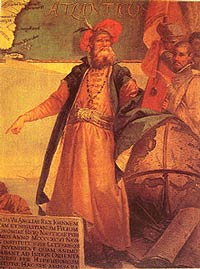 Born: c. 1450 in Either Castiglione Chiavarese, Republic of Genoa
or Gaeta, Kingdom of Naples
Died: c. 1499
Nationality: Venetian
Occupation: Maritime explorer
Famous For: first European since the Vikings to explore the mainland of North America and the first to search for the Northwest Passage
As an Italian, John Cabot was one of the greatest explorers of his day, he reached North America on a journey commissioned by the English king, Henry VII. It is not entirely certain where he landed, but the surviving evidence suggests that it may have been Newfoundland. The only Europeans known to have visited North America previously were the Vikings four centuries earlier and Christopher Columbus in 1492. Cabot himself, however, thought he had reached Asia.
Early Life
Cabot, known in his homeland as Giovanni Caboto, he was born in Genoa to a family of spice merchants. He moved to Venice in the early 1460's, and here he received instruction in navigation and seamanship. He married in 1474, having three sons. One of these, Sebastian, would later become a notable explorer himself. By 1476, Cabot had received Venetian citizenship, and was able to engage in the Mediterranean trade. However, he was later forced from the city after getting into debt.
The discoveries of Columbus in the early 1490's had inspired Cabot, who was certain that the journey to Asia could be shortened by sailing west. His attention was caught by news of opportunities for explorers in England. Traveling there, he was able to obtain a grant from King Henry VII to discover new lands to claim for the English crown. The first of these was to be a trip on The Matthew, a small but fast ship which Cabot felt would be ideal for exploration and trading.
The Voyage of the Matthew
Cabot sailed from Bristol in May 1497 with his 18 man crew. Using a northern route to take advantage of the shorter sea crossing, The Matthew reached land fifty days after the voyage had begun. The precise location of this landfall is shrouded in mystery. Both the British and Canadian governments maintain that it was Newfoundland, though the evidence is not conclusive. Some historians believe that Cabot stepped onto dry land in Nova Scotia, and a few even argue the case for Maine.
The full logs of the Matthew have not survived, but the general consensus is that Cabot took a small party of men ashore with him in order to claim the land for the English king. After only a short stay there, he departed for England in July, arriving safely back in Bristol early the following month. Cabot was the recipient of not only royal favor but a twenty-pound pension, and the king granted permission for him to embark on another North American voyage in February, 1498.
Disappearance
Cabot's new journey was on a much larger scale, involving five vessels with a total crew of around 300. On board were a number of samples of lace and cloth, presumably intended for trading with any native inhabitants of newly-discovered lands. One ship was damaged and had to abort its voyage in Ireland, but the others sailed on. None of them were ever seen again, and for a long time it was accepted that they had been lost in a storm. In recent years, some evidence has emerged that Cabot did in fact reach Canada, although his precise route cannot be established with any certainty.