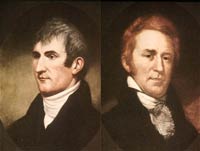 Nationality: American
Occupations: U.S. Army volunteers
Famous For: Led first American expedition to explore the western portion
The exploration team of William Clark and Meriwether Lewis is one of the most famous duos in early America. The team was known as the "Corps of Discovery." Their expedition started in May 18th, 1804 and ended in the late summer of 1806. This was the first successful trip made from St. Louis all the way to the Pacific Ocean and back.
William Clarks
William Clark's family settled in central Virginia in 1630. His parents were Ann Rogers and John Clark III. The family relocated to Carolina County, VA in 1757 where six other children were born and brought up. This included Clark who was born August 1st, 1770.
After their successful expedition, Clark was awarded $1,228 and 1600 acres of land. He was also named Brigadier general of the Louisiana militia in the same territory where Lewis was governor. He married Juliana Hancock in 1808. She bore Clark five children and died in 1820. Clark later married Harriet Kennerly, Juliana Hancock's cousin.
Meriwether Lewis
Lewis was born on August 18th, 1774 in Albemarle County, Virginia at the Lewis family estate. His mother, Lucy Meriwether was a cook while His father William Lewis was a soldier.
Clark and Lewis became friends in late 1795 when Lewis was assigned to the Chosen Rifle company. However, Clark had to resign soon after Lewis' arrival due to health and familial issues.
President Thomas Jefferson desired to study the Western part of America and he appointed Lewis captain of the expedition and also allowed him to invite Clark to be his co-captain. After their return from the successful expedition, President Jefferson appointed Lewis governor of Louisiana.
Lewis and Clark Expedition
Clark and Lewis were accompanied by translator Sacagawea, soldiers, and some young men on their expedition. They departed from Pittsburgh on May 18th, 1804. Even though they had spent two and a half months on the Ohio River, the mouth of the Dubois River is considered their actual departure point.
The journey was mainly through the unexplored north-western wilderness. The trip took them down several rivers and across the Rocky Mountains. They met and befriended almost 50 Native American tribes. During the expedition, they built two forts for the winter encampments. These were Fort Mandan in North Dakota and Fort Clatsop in Oregon.
The entire expedition took 28 months and covered 8,000 miles. In total, they found 300 new organisms comprising of 122 new animal species and 178 new species of plants. The big horn sheep and the grizzly bear were some of their major discoveries during the expedition. Lewis took his dog along. It was a large Newfoundland Retriever named Seaman who guarded their campsites at night and also aided in the retrieving game. While on this important expedition, they sent a prairie dog back to President Jefferson.
On October 18th, 1809, Lewis was found dead at Grinder's Inn, in Tennessee, with several gunshot wounds. Clark died on September 1st, 1838. Lewis and Clark are now known as some of America's greatest explorers.