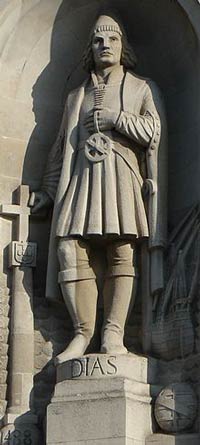 Born: c. 1451 in Algarve, Kingdom of Portugal
Died: May 29, 1500 (at age 48-49) in Cape of Good Hope
Nationality: Portuguese
Occupation: Navigator and explorer
Famous For: First European to sail around the southernmost tip of Africa
Bartolomeu Dias was a Portuguese explorer. He was the first man to have sailed around the Cape of Good Hope. Dias did not set out on the journeys which made him famous until he was in his thirties.
Voyage to the Cape
All that is known about Dias's life before his time as an explorer is that he was in charge of some of King João II's warehouses. Also, he had only made a single voyage aboard a warship. Sometime in 1486, however, the king tasked him with leading an expedition to discover a route to India by sea. With a small fleet of three ships, Dias set sail in August of the following year. The party at first followed the route discovered a few years earlier by Diogo Cão, which ended at what is now Namibia.
After having stopped at several African ports with gifts of precious metals and assurances of friendship toward the native peoples, Dias's ships were blown out to sea by a storm. However, he had been given a Venetian map by the king that showed that the Indian Ocean lay to the east of Africa, and this encouraged him to turn south. As the party was heading into entirely unknown territory, Dias was effectively betting his men's lives on the course change. Yet, in February, 1488, land was sighted.
The Southern Tip of Africa
Landfall was a few hundred miles east from the Cape, but there was little time to explore as tribesmen attacked with stones. Eventually, one of Dias's men killed a tribesman, after which resistance ceased. Though Dias wanted to push on along the coastline, their food was running out, and the threat of mutiny hung in the air. Eventually, an agreement was reached that a maximum three more days of sailing would be allowed. This brought them to Kwaaihoek in the Eastern Cape, which proved to be the eastern extent of their travels.
During the return journey, Dias saw the extreme southernmost tip of Africa. He named it the Cape of Storms. He chose the name for the treacherous mixture of strong currents and frequent storms that combined in the area. Upon arriving home, large crowds greeted the explorers when they got to Lisbon.
Aftermath
Despite Dias's achievements, the king was unhappy that he had not managed to find Pêro da Covilhã, a secret agent stationed in India. He commanded that the cape the explorer had named should instead be referred to as the Cape of Good Hope. Dias himself, now out of favor, lived for a while in the Portuguese trading center of Guinea. After this, the new king, Manuel I, sent him to oversee the shipbuilding for Vasco da Gama's expedition. Dias accompanied da Gama as far as Cape Verde, and then returned to Guinea.
After the success of da Gama's voyage, Manuel assembled a large fleet and sent it to India under the command of Pedro Álvares Cabral. Dias himself was put in charge of four ships, which traveled first to Brazil, reaching it in March 1500. From there, a course was set for South Africa and then India. Dias, however, was never to see the land he had tried for so long to reach. In May, as the ships rounded the Cape, four of the 13 ships were sunk in a storm, with Dias among those who drowned.