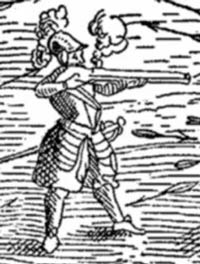 Born: Aug 13, 1574 in Brouage or La Rochelle, Aunis, France
Died: Dec 25, 1635 (at age 61) in Quebec, Canada, New France
Nationality: French
Occupation: Navigator, cartographer, draughtsman, soldier, explorer, geographer, ethnologist, diplomat, and chronicler
Famous For: Exploration of New France, founded Quebec City, Canada
Samuel de Champlain was born in Brouage, France. He was an explorer, navigator and cartographer. He is known as the "Father of the New France" as he established New France and Quebec City during his explorations in North America. He is highly regarded in Canadian history since he was the first to create an accurate map of the coastline which helped establish the settlements there. There are a number of streets, structures and places that bear his name in North America. The most prominent being Lake Champlain which lies in the border of New York and Vermont.
Birth
There are controversies as to when Champlain was actually born. Earlier literature suggested that he was born in the year 1567. A French genealogist suggested that some authors of the records might have wanted to claim he was born when Brouage was predominantly Catholic. However, not a lot of Catholic children were given the name "Samuel." Recent discoveries which included his baptismal certificate suggest that he might have been born as late as 1580. His real birth year has yet to be found. Most monuments and statues dedicated to him have the year 1574 as his birth year.
First Travels
Champlain was born into a family of mariners. He learned how to navigate, draw nautical maps and create impressive reports at a very young age. He served King Henry IV's army and fought in the later stages of France's religious wars. History implies that his firearm skills were self-taught and he never learned any ancient languages. His first travels were with his uncle. He went as far as Spain and the West Indies. He was first a geographer for King Henry IV, and then, in 1603, he joined François Gravé in his exploration of Canada. They sailed up to Gaspé Peninsula and arrived in Montreal.
Quebec
Because of his usefulness, he was named a Lieutenant to Lieutenant-General Pierre Du Gua de Monts. They set up an expedition in St. Lawrence where they arrived June of 1608. During this expedition, they established a fort which was later known as Quebec. This soon became a popular hub for French trading. However, Champlain had a major battle against the Iroquois. This hostile relationship between the French and the Iroquois lasted more than a century. He, however, established a good relationship with the Hurons who helped them in battle against the Iroquois. They lost that battle and Champlain was badly injured. He was forced to stay with the Hurons over winter. This was the time he wrote his famous memoir about Native American life.
Later Years and Death
When Champlain was able to return to France, he found that there were a number of lawsuits against him. Because of this, he could not return to Quebec. Instead, he focused on writing about his travels. He traveled back and forth to Canada during his later years. His stay was interrupted because of the British fleets who intended to displace the French. Just as the Treaty of Saint-Germain-en-Laye was signed by the British and the French, Champlain was able to return to Quebec. Although, by this time his health was failing. He died on Christmas day in the year 1635.