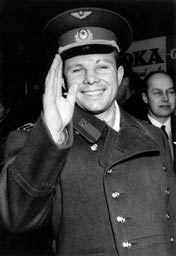 Born: Mar 9, 1934 in Klushino, Russian SFSR, Soviet Union
Died: Mar 27 (at age 34) in Novosyolovo, Russian SFSR, Soviet Union
Nationality: Soviet
Occupation: Pilot
Famous For: First person to go into outer space
Awards: Hero of the Soviet Union, Order of Lenin
Yuri Gagarin, the famous Soviet cosmonaut and pilot was the first human to explore outer space. His military rank was Polkovnik, corresponding to a colonel in the Soviet Air Forces. The memorable day April 12th, 1961 when his spacecraft called Vostok completed an orbit of the planet Earth remains a crucial moment in the history of mankind. Yuri Gagarin was also renowned for his charismatic and irresistible smile. He was recognized by Queen Elizabeth II, Fidel Castro and the leaders of both the US and France for his outstanding accomplishments.
Early Years
The third of four children, he was born on March 9th, 1934 in the small village of Klushino, which lies around 125 miles from Moscow, Soviet Union. During the Nazi occupation in World War II, his parents were forced to hide with their children in a small mud hut for 1 year and nine months. In early 1946 they moved to Gzhatsk, a nearby city which is nowadays renamed Gagarin. In 1971, a replica of the house in Klushino where the Gagarin family used to live from 1933 up until 1945 was constructed and now it functions as a museum cared for by devoted friends and family of the famous cosmonaut. Gagarin's botany teacher, Yelena Kozlova, said that Yuri enjoyed pranks and he was fun-loving yet very serious about his studies. His favorite subjects in school were mathematics and physics. When he was in the sixth grade, Yuri Gagarin joined the aviation club of the school, driven by an innate passion for the stars and space. He earned his first money working as a foundry man, but because he wanted to pursue a career in aviation, he enrolled in the Technical College in the city of Saratov. As a student, he also worked part-time as a dock laborer on the Volga River. With the money he earned he bought presents for his family. In 1955, he was drafted by the Soviet Army after graduating from the Saratov Technical College. In 1959, Gagarin became Senior Lieutenant in the Soviet Air Forces.
First Human Spaceflight
On April 12th, 1961, aboard Vostok 1, Yuri Gagarin became the first man to journey into space, a trip which lasted 108 minutes but transformed him into a legend. Recalling his experience of spaceflight, he stated that he felt as if he were being "suspended." He allegedly commented "I don't see any God up here." The Vostok 1 mission successfully made a single orbit around Earth in only 1 hour and 48 minutes. He managed to land safely near Smelovka village in the Saratov Region's Ternovsky District. Yuri Gagarin became an internationally acclaimed and highly-respected celebrity and he began touring the world. He received many awards and honors. In 2011, the 50th anniversary of the first human spaceflight was marked by homages around the globe.
Mysterious Death
Yuri Gagarin passed away at the age of 34, on March 27th, 1968 during a routine training flight. His jet fighter MiG-15 UTI crashed near Kirzhach, Russia. His body was cremated and the ashes were buried in the Kremlin Wall Necropolis on the main city square in Moscow, Red Square. Over the years, different investigations of this plane crash have been conducted, as various conspiracy theories considered his death not entirely an accident. To this day, Gagarin s premature death is a mystery.